SLATWALL
Slatwall Panels, Slatwall Hooks and Accessories, Slatwall Fixtures, Slatwall Displays!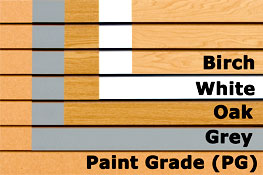 Slatwall Panels
*All new panels sold 4 x 8 standard size.
Available Colors:
Paint Grade (unfinished, ready-to-paint): $35 New
White (melamine finish): $45 New
Birch, Oak, Grey (melamine finish): $50 New
NOT PICTURED: Mirror: $200 New
U

SED slatwall panels:

$5-50 depending on size and quality
CUT that to size?
We will cut slatwall panels to specified sizes for a charge per cut; however, the full new or used sheet must be purchased before we will cut!

Slatwall Hooks
Used: $.35
New: $.40
Sizes Available: Picture Hook, 2", 4", 6", 8", 10" 12"
Colors: Chrome, White, Black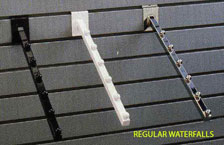 Slatwall Waterfall (Regular)
Used: $1.50
New: $2.50
Colors: Chrome, White, Black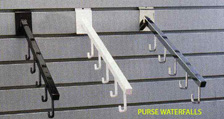 Slatwall Purse Waterfall
Used: $2.00
New: $2.50
Colors: Chrome, White, Black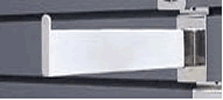 Slatwall Straight-Outs
Used: $1.00
New: $2.00
Colors: Chrome, White, Black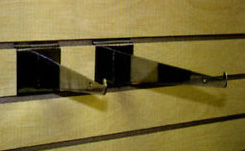 Slatwall Brackets
Used: All Sizes: $1.50
New: 8": $1.50; 10": $1.75; 12": $2.00; 14": $2.25; 16": $2.50
Colors: Chrome, White, Black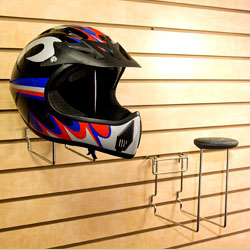 SW Helmet Display:
$2.00 Used / $4.00 New
Slatwall Helmet Display
Used: $2.00
New: $4.00
Colors: Chrome, White, Black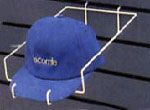 Slatwall 10-Cap Display
Used: $2.00
New: $2.50
Colors: Chrome, White, Black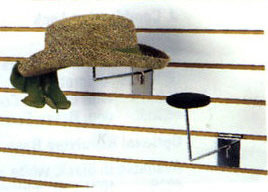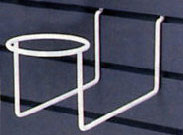 Slatwall Sinlge Cap & Ball Display
Used: $1.50
New: $2.50
Colors: Chrome, White, Black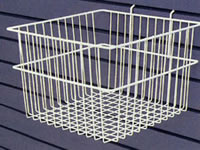 Slatwall Square Basket
Used: $5.00
New: $8.00
Colors: Chrome, White, Black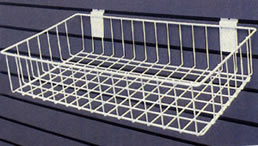 Slatwall Large Rectangular Basket
Used: $6.00
New: $10.00
Colors: Chrome, White, Black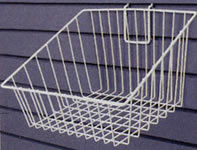 Slatwall Slanted Basket
Used: $5.00
New: $8.00
Colors: Chrome, White, Black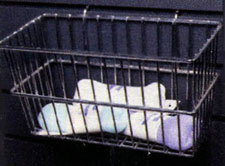 Slatwall Small Deep Basket
Used: $3.00
New: $5.00
Colors: Chrome, White, Black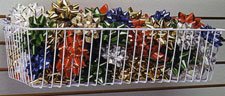 Slatwall Rectangle Basket
Used: $6.00
New: $10.00
Colors: Chrome, White, Black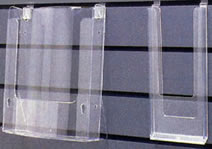 Slatwall Plexi Lit Display
A Used: $2.00 B Used: $3.00
A Used: $3.00 B New: $5.00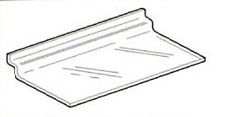 Slatwall Shoe Shelf
Used: $.50
New: $1.00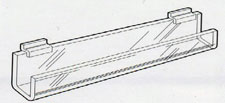 Slatwall Acrylic Shelf 1
Used: $4.00
New: $6.00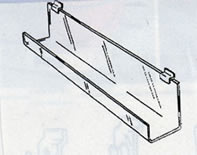 Slatwall Acrylic Shelf 2
Used: $3.00
New: $6.00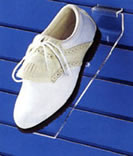 Slatwall Shoe Faceout
Used: $1.00
New: $2.50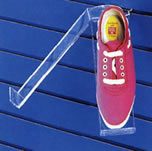 Slatwall Double Shoe Swivel
Used: $2.00
New: $3.50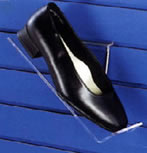 Slatwall Side Slant
Used: $1.00
New: $2.50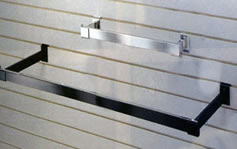 Slatwall Flatbar and Roundbar
Used: $1.00 per foot
Color: Chrome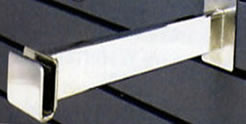 Slatwall Flatbar Bracket
Used: $2.00
New: $3.25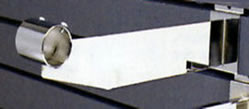 Slatwall Roundbar Bracket
Used: $2.00
New: $3.00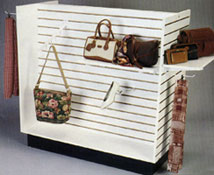 Slatwall H-Rack
Used: $125
New: $250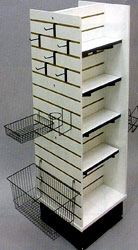 Slatwall Tower
Used: $75
New: $200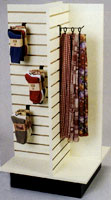 Slatwall 4-Way
Used: $100
New: $225