MANNEQUINS, TORSOS, FORMS & STANDS
Adult & Child Mannequins, Full & Half Body Forms, Leg Forms, Torsos, Foam Heads, Torso and Mannequin Stands, Etc.!
Full-Body Adult Mannequins
New: $250
Used: $100-175 depending on quality of available stock

Available in Caucasian and African types
Boy & Girl Children Mannequins
Used: N/A
New: $150

Adult Mannequin Torsos

A. Used: $50.00 New: N/A
B. Used: $40.00 New: N/A
Let's Play a Game: Where's the Real Kid?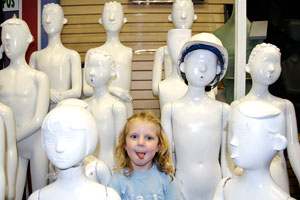 Used: N/A
New: Totally PRICELESS!
Stands for Mannequin Torsos
Wood and Metal Stands:
Used: $20
New: $35
Colors: Tan, Black
All-Metal Stands:
Used: $40
New: $85
Colors: Chome

Full and 1/2 Body Forms
Full Body Forms
Used: $6
New: $10
Colors: White, Black
Half Body Forms -- Not Pictured
Used: $5
New: $8
Colors: White, Black
Male and Female Mannequin Leg Forms
Used: $30
New: $55

Head Forms / Foam Heads
A. New: $3
B. New: $5
C. New: $15
D. New: $40
E. New: $45
F. Used: $35