Sales, Returns and Delivery Policies
Sales and Returns Policy:
Return Policy:
IN-STORE CREDIT or EQUIVALENT-VALUE EXCHANGE for return of NEW PRODUCT ONLY! Returns/exchanges accepted within TWO WEEKS of sale WITH RECEIPT only!

USED ITEMS = NO RETURNS, no EXCHANGES!!!

All USED Product sold AS-IS:

We do NOT guarantee that electrical parts of used products are in functional order at time of sale. We DO NOT repair, mend, nor replace any broken, scratched, or otherwise damaged portions of any USED
Fixtures.

Purchase of USED Showcase, Counters, Cash-Wraps, Etc.:

All used cases sold as-is:
We DO NOT repair nor mend blemishes or cracks in lamenant in used showcases, counter, cashwraps, etc.
We DO NOT guarantee scratch-free glass, functioning light fixtures, drawers, and locks, nor do we fix light fixtures, drawers, and/or locks of used cases and fixtures.
Full-view showcases are sold with two rows of glass shelves and the necessary brackets and shelving-pads;
3/4-view cases are sold with one row of shelves;
Used jewelry showcases are sold without glass shelves.
Back to top.

Delivery Policy:
Delivery Charge:
$75 = TC Metropolitan-Area deliveries that require only one trip from our warehouse.
Cost of multiple-trip deliveries and deliveries to locations outside the Twin-Cities Metro Area must be negotiated between ASF, Inc. sales representative and customer at time of sale.
Delivery service is NOT a moving service:
Delivery Service is intended to move product from our warehouse to the location designated by customer ONLY.
We will not place product in position within customer's location of delivery. We will deliver product through the most accessible doorway ONLY.
*CUSTOMER SHOULD have everything ready for delivery and be certain product will fit through doors and inside of location. We will NOT take apart product nor remove doors nor make any alterations whatsoever to location in service of delivery.
If product does not fit:
If product does not fit through doors or there are undesignated obstacles to delivery of product at location, ASF personnel will either leave the product on street or will reload and return product to our store,
If product is returned, customer must remove product from our warehouse within two weeks. If ASF delivery service is again requested, customer will be charged again.
Product returned to the store can be exchanged but will not be refunded, and will be available for resale within two weeks of return to our store.
DELIVERY TO HARD-TO-REACH LOCATIONS (such as Basement, Second Floor or Above WITHOUT ELEVATORS, Etc.):
Deliveries to second-story or basement locations without elevators and all other hard-to-reach locations MUST BE ARRANGED IN ADVANCE.
Customer must notify an ASF, Inc. sales representative at time of arrangement of delivery of any such difficulty on delivery-site. If the ASF, Inc Delivery Crew arrives to find unspecified difficulties, they are instructed to leave product on sidewalk and/or street. Henceforth, movement of product will be sole responsibility of the customer.
Back to top.
Policy on Loading at Our Store: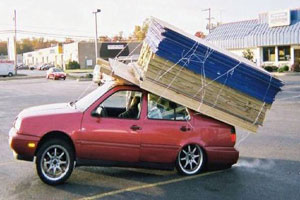 Our insurance does not allow us to help you load your purchases into your vehicle or trailer.
We will provide twine, but you are responsible for loading and fastening your purchases. If you leave and it breaks, it's your deal!
HOWEVER, be advised: We won't allow you to load your car as the people in the photo to the left!
(Photo was allegedly taken at a rest area down the road from a home depot or some such store.)
Back to top.
ASF Delivery International. . . J/K!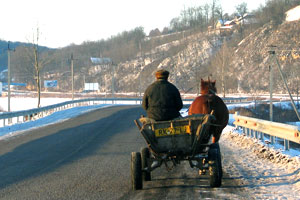 ASF Delivery Service - Eastern Europe
Near Pidhajtsi in Western Ukraine
Photo by ASF owner Bob's son Stefan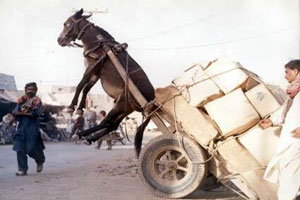 ASF Delivery Service - India & Pakistan
Photo from the internet
Ukraine is the ancestral homeland of ASF owner Bob's family.
The horse-and-wagon made a comeback in parts of Eastern Europe during the economic meltdown that followed the collapse of the Soviet Union.
SINCE WE IN THE U.S. are experiencing our own economic downturn, we are considering a similar return to the horse and wagon for our local deliveries!
Back to top.
PS--We don't really have an international delivery service, and none of us have been to India. Bob's eldest son Stefan has lived in and frequently travels to Ukraine. Check out his photos of Ukraine (as well as his own web and graphic design business website) here.